Ecological drink stirrers
Today, thousands of tons of plastic are floating, inert and polluting, across the oceans of our world.
The main products of all this dirt are plastic straws and shakers.
But there's good news, you now have eco-friendly shakers for all kinds of drinks.
The ecological characteristic of shakers makes them safe, sustainable and ecological.
Made of various materials, green shakers are the ideal solution to stop using plastic products anymore.
See more
See less
Here is an overview of what you can find in the Greenuso online shop.
Friendly for the environment.
Ideal size for any type of cup.
Resistant to use at low temperatures.
They do not alter the taste of beverages.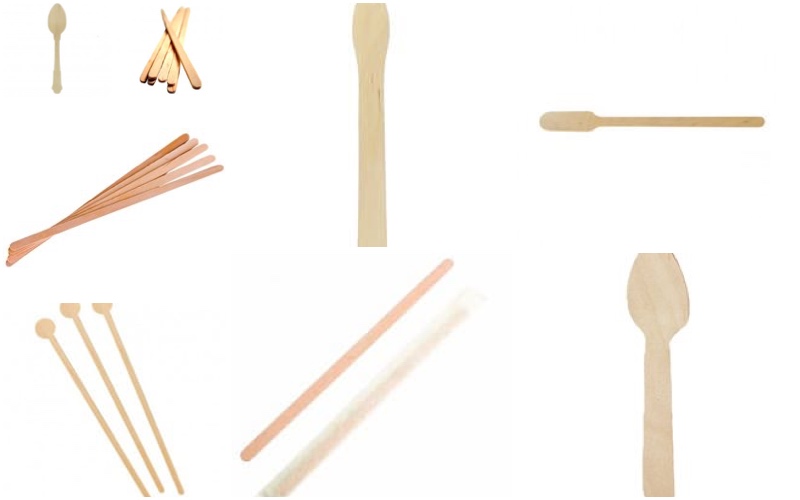 Types of ecological stirrers
The ecological mixers we have at Greenuso are grouped according to the purpose they are intended to achieve. Depending on the drink to be connected, organic stirrers have different options, always with the idea of offering a high quality and efficient product. In the following lines you will find the three groups of ecological shakers: drink shakers, shakers and coffee spoons. All these products comply with the standards established by the European Union and Spain to consider a product as organic. It is part of our guarantee as a company to offer goods with unsurpassed properties, durability and - above all - functionality.
---
Beverage stirrers
The first mixers that we will present to you are those intended for drinks. Made of wood as the main material, this type of shaker can be used for hot or cold drinks. They are ideal for mixing coffee, infusions, chocolate and alcoholic beverages. Since they are made of ecological material, the taste of your drink will not be affected after using the mixer. At Greenuso you will find products from a length of 140 mm with natural wood coloured surfaces, without any kind of colour or chemical compounds.
---
Coffee stirrer and dustpan
This group of ecological stirrers is aimed at deep-seated lovers and their demands when they drink their favourite drink. The first thing to note is that they are made of wood. They do not contain chemicals or equipment, creating a product that does not alter the taste of your coffee. In terms of design, the dimensions of this product range from 9 cm to 19 cm. In our shop you will find almost 10 different models of ecological coffee cups.
---
Coffee spoons
We know more about coffee spoons. But these ecological mixers have a design that will surprise you positively. The coffee spoons with dimensions between 110 mm and 125 mm are made of high quality wood. Like its predecessors, this type of ecological stirrer does not contain paint or chemical additives. The rough wooden surface of the coffee spoons you find at Greenuso has a shape that stands out and fits your style.
---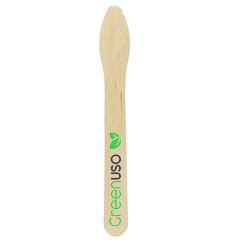 Custom stirrers
Imagine for a moment that, in addition to biodegradable glasses, you can give your customers an ecological shaker with the name of your restaurant printed on the parts. At Greenuso we offer you the opportunity to personalize your eco-friendly products, a wink at the brand marketing you will do with each of your disposable products. Contact our customer service representatives by email, phone or via our online customer service chat; they will inform you about the steps you need to take to customize your products.
Is it necessary to use ecological stirrers?
We already know that plastic is a great poison for our planet, contained in various everyday products. Straws are among the most polluting plastic products. The time of use of this product of a few minutes can not be compared to the centuries needed to decompose. Now we ask you: how do you mix drinks at home? You probably answered that you are working with a reusable stirrer or a special spoon. The shakers are in the same line as the straws. Although the use of these, in the vast majority of cases, only takes a few seconds. We take out the drink and the trash can. According to projections by Australian scientists, up to 8.3 billion plastic straws could be found on the world's shores. A good part of these straws are plastic absorbers, which end up on the coast due to the poor disposal of our waste. The problem of so much plastic on our beaches is not only cosmetic. It damages the balance of this ecosystem. But the damage does not only remain in the water. Studies confirm that most seabirds consume up to 8% of their total body weight in plastic. The most obvious solution is to use environmentally friendly mixers, including environmentally friendly products. Raw wood stirrers, paper straws, bamboo and even reusable products are on the list of possibilities you should avoid using plastic in your drinks.
Video of the boat with plastic stirrers
There are ways to minimize the damage we do to plastic products every day through our consumption habits. One of the possibilities is the use of products such as ecological agitators. Another possibility is to recycle them. They can be used in any country in other parts of the production chain. Giving them a different use, preferably longer than the original one, will prevent the bad disposal of waste and plastic from reaching our shores. Let's take a quick look at a video from YouTube, from the Easy Decoration channel, where we are shown artefacts with used coffee cups and balloon holders. Beverage stirrers, also called glass stirrers or cocktail stirrers, are ideal for serving all types of drinks in bars, events or catering. Among the ecological shakers that can be found in Greenuso's online shop are the wooden whisky shakers. This product, ideal for mixing drinks served in long glasses, has the following characteristics: For the production of beverage stirrers we use high quality raw materials, wood from sustainable forestry, which respects the natural balance. The extension of our drink stirrers is 15 centimeters. With these sizes, these ecological stirrers can be used to mix any type of drink, regardless of the size of the glass in which it has been served. If you want to obtain a high quality product that gives your drinks a touch of exclusivity, elegance and distinction while respecting the environment, the Drink Shakers are an option to consider.
See more
See less