Ecological Napkins
Napkins are certainly one of the most popular consumables in the hotel and catering industry.
Used as a personal hygiene product, napkins get us out of trouble during our time at the table.
Thanks to napkins we can wash while we eat, without having to get out of the chair.
See more
See less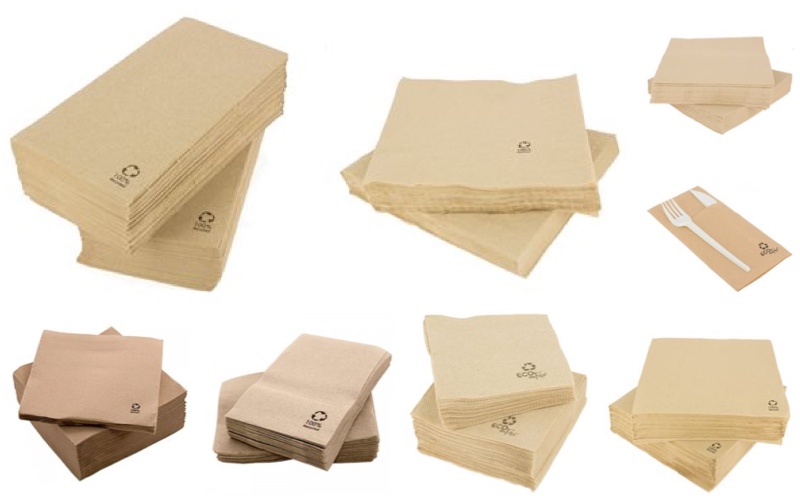 However, if the napkin production process is not sustainable or environmentally friendly, we are faced with a pollution problem that we must reverse. We at Greenuso offer products made from 100% recycled and environmentally friendly materials throughout their entire life cycle. Before buying the next set of napkins for your store or home, we invite you to discover the eco-friendly napkin options you can find in Greenuso.
Types of ecological napkins
At Greenuso you will find a wide range of ecological napkins, especially in terms of size and number of folds. We offer a variety according to the different sectors of the catering industry, focusing on offering a service that meets the needs of your guests. Let's see what possibilities Greenuso offers you to offer a hygiene product in your company without endangering the environment.
---
Recycled napkins
The recycled eco-napkins are made of 100% recycled cellulose. Throughout the cellulose recycling and napkin production process, the environmental policy in force in the European Union is strictly observed. With meticulous attention to detail, you get a paper that is as environmentally friendly as the raw material. Greenuso napkins are beige in color, without contaminating inks, dyes or bleach, and perform their function without any inconvenience. They are also very soft to the touch and have a pleasant smell. In other words: Your customers will find no reason not to use these eye-catching recycled napkins.
---
Decorated napkins
There are restaurants that as a concept try to break the mould of the existing.
For this reason, they do not use the same products as other restaurants, they try to be unique and offer their guests an unforgettable experience. For plants with innovative proposals, decorated napkins are a good choice. With an extension of 40 x 40 cm, these napkins have incredible and beautiful decorations that match the personality of your company. Among the napkin decorations you will find landscapes, clocks, geometric shapes, monuments and flowers, all with the elegance necessary to be in harmony with every element on your table. In addition, they are made of high quality material, which makes them a product with great absorbency and a very soft touch.
Kangaroo napkins for cutlery
At every stage of the catering industry, hygiene must be present and obvious to our customers. When you realize that you are eating in a place that pays attention to every detail of cleaning, you will enjoy the evening and have a memorable experience that you will want to repeat and recommend to your friends, one of the marketing actions that works best. One element that will help you create this atmosphere of trust is the kangaroo napkins. They are napkins with a special fold to transport and protect the cutlery at all times. Let your guest know that his cutlery is protected by a 100% recycled cellulose napkin and can be used without hesitation.
Customized ecological napkins
If you're an entrepreneur who thinks big, you know that anything you invest in customer service will be profitable.
Who wouldn't feel comfortable in a place full of details and good customer service? Do not miss the opportunity to delight your guests with a personalized ecological napkin. You can post any message, declare the use of environmentally friendly materials in your company or thank your restaurant for your visit. If you order eco-napkins through our website, find out about the steps to customize your products.
Why pollute paper when it is biodegradable?
Paper, raw, could be an ecological element. The problem arises when toxic inks are used for printing or the process during production is not sustainable. For example, for some time now, carefully designed forests have been created with particular attention to paper production. Every detail is taken care of in these forests to ensure that every process during the production of paper is 100% ecological. However, these forests often destroy the biodiversity of the areas. They are planted on a hectare and hectare of a plant, which - in some cases - do not even correspond to the area where it is located. Another aspect that is taken into consideration during the whole process of ecological paper production is the use of non-renewable resources, with particular attention to water. Water management is optimized and water waste is treated before being returned to the environment. Transport is also optimised as much as possible, which helps to reduce the carbon footprint generated by the process.
Figures showing uncontrolled consumption
When it comes to environmental protection and pollution, artillery is often directed against products such as plastics, which are very aggressive for the environment, but they are not the only toxic products on the planet. The paper industry, a product that can be considered biodegradable, can sometimes be as harmful to the environment as plastic. But it is difficult to recognise. Why is that? Well, wrongly, analysis or research without a method tends to focus on the product. The entire process of raw material extraction, processing, production, distribution, sale, disposal and recycling of paper is left behind. In Spain, the approximate consumption of paper, considered hygienic and harmless to health, in 2018 was 15 kilograms per inhabitant. Thus we have a total of 713 thousand tons of toilet paper, kitchen rolls, paper handkerchiefs and napkins, among other products of this type. Let's do a quick and easy calculation exercise. How much does a packet of napkins weigh? A few grams, it is almost imperceptible. Now imagine how many packets are needed to reach 713,000 tons. And this type of paper represents only 10% of total paper consumption in Spain. Given the signs of monstrous consumption, you need to promote various actions, all within our reach, to start using recycled paper. The ecological napkins, certainly one of the most used cards in your restaurant, can be a start of this path. One of the most popular consumables are napkins. Always present on the table of restaurants, hotels, catering services, take away sector, even in every Spanish family. Napkins are a solution that allows guests to tidy up during the meal without having to get up from the table. The recycled napkins are made from 100% recycled cellulose and their production is part of the European Union's ecological policy, which guarantees environmentally friendly production. Among the most important features of recycled napkins are ours:
A softness pleasant to the touch.
Superior absorbency.
Resistance and durability.
Made from 100% recycled material.
Recycled napkins have different sizes and sizes, created with the intention of responding to as many of our customers' requests as possible and in turn offering a high quality product in their companies. Because of their versatility, reusable napkins are often an essential part of the hotel, restaurant, catering and take-away industry, but they are also found in our homes, offices, public bathrooms, at events and celebrations; in short, they are widely used in our daily lives. This versatility of use generates immense demand, which is why alarms are raised and environmental organisations are starting to raise flags of alarm, especially with regard to possible environmental damage. This is the main reason why we think it is necessary to use napkins made of recycled paper, thus giving a break to the forests for the production of all types of paper we know. In Greenuso's online shop we have a wide selection of recyclable napkins in various sizes and folding numbers, available for any service need. Thanks to our delivery service, you can buy recycled napkins anywhere in Spain and receive them at the address indicated within a maximum of 48 hours.
See more
See less