Ecological Plates
In ancient times, when plastic did not exist, all our frequently used tools and utensils were made of natural materials.
In addition to clay, it is known that many populations used large leaves - of various plants - as tools for positioning and transporting food.
With the intention of returning to our origins of respect for the environment, ecological dishes are born as an ideal and easily accepted option.
Types of dishes
To meet your need to live in harmony with our environment, we offer a wide variety of ecological dishes. The ecological dishes are made of different materials and do not differ from the plastic dishes. Dishes made from palm leaves, wheat pulp, sugar cane, wood, cardboard and paper; these are just some of the types of ecological dishes you will discover with us.
---
Biodegradable plates
Biodegradable products are products that can disappear - in a short time - without leaving a trace and without human intervention. In Greenuso you will find functional and unbelievable models of ecologically degradable plates. These elements of the so-called ecological dishes are ideal for catering, parties and events in all types of restaurants and hotels. They are also products that offer a lot of personality and distinction to the restaurants that are part of the food truck movement.
---
Compostable dishes
Compostable materials are all materials that, in combination with other materials of natural origin, have the capacity to be converted into organic fertilizer or compost. After an extensive evaluation of the current market, Greenuso has selected the best compostable dishes for you, at the best price and in a single website. The ecological compostable plates commercialised by Greenuso have the certifications that endorse the quality of the material. Dishes in different sizes and shapes are the ideal complement to your best banquets.
---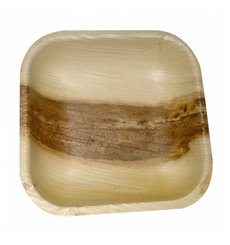 Reusable Dishes
Ecological dishes are a great advantage, but if they add properties that make them reusable, they are unbeatable. The reusable Greenuso plates are triangular, round, with compartments, square, in short, the possibilities are immense. Each of them has the ideal finishing touch to make a unique piece on the table. Often this type of dish can be used in the microwave oven, for cold and hot dishes.
---
Adapted dishes
Events and parties are special moments par excellence. Do you want them to be unforgettable? Imagine that during a wedding, jubilee, birthday or the opening of a restaurant you get the opportunity to have ecological dishes made to measure. You can also generate marketing campaigns with these basic tools of each table, by customising dishes per season. You can have a personalized dish for one of our football cups, seasons like Halloween or Christmas, even the holidays in your region. These details will provide an unforgettable experience among your guests, which will improve the statistics to your advantage for your next visit.
Why buy organic food?
Spain is one of the great powers of world tourism. Because of the number of people who visit us every year, we are one of the first three countries with the highest number of foreign tourists. Have you ever seen a tourist travel with his dishes? We know the answer and we understand that tourism is one of the main causes of the consumption of plastic plates. If to the plastic that serves the tourist activity in all our paradises, we add the internal consumption of plastic sheets, with facility, we will obtain disturbing data. With the knowledge of these data and the favorable statistics generated by the current legislation, it is expected that the use of plastic for the manufacture of a large number of products will soon be banned. Among the products that would be banned are plastic cups. That's why we invite you to start using ecological boards, with biodegradable or compostable materials, which support your work and reduce the ecological footprint you leave on the planet.
Problems caused by plastic sheets
Plastic is present in our lives at a level few people understand. Amazed by its advantages, we incorporated it - with great force - into our whole lives. So we broke with the natural balance and the earlier solution of plastic became a big problem. In addition to the uncontrollable and obvious invasion of plastic, such as in seas, oceans and rivers, we also consume plastic. Whether it's the misuse of packaging, production breakdowns or the micro-particles of plastic swimming in our waters, this hazardous material ends up in our food and drinks. As if this were not enough, it is well known that the food industry uses types of plastic that are highly toxic. For example, white polystyrene trays are widely used in the sale of meat, fish, cheese, fruit and other foods. Today it is known that these dishes contain styrene, a carcinogenic substance that eventually attaches itself to our food. The invitation is to stop using this type of cuisine and start using ecological dishes as mentioned above.
Biodegradable dishes with banana leaves
Below we invite you to enjoy a video from the ATV News Agency in Peru. In this video you can see the interview they did with two young engineers making biodegradable dishes from banana leaves. Between 45 and 60 days, such an ecological dish disappears without a trace.
8 steps to forget plastic sheets
We know plastic is a temptation. They are sold all over the world, are cheap and seem harmless. We get used to living with one of the biggest killers on the planet. To help you make the decision to change your life, we leave you these 8 steps to eliminate the use of plastic. 1. Before using plastic materials, ask if they have another option. Many stores choose the easiest or most common things to sell and end up doing great damage to the planet. 2. Preferably use reusable bags or cloths when shopping. 3. No more straws! If you use them for hygienic reasons, you can use a reusable or biodegradable cup. 4. Bring your reusable bottle to drink water. Fill it up and do not buy plastic water bottles. 5. Prefer products with glass or cardboard packaging. Avoid plastic packaging. 6. At your next weekend party or family gathering, migrate to eco-friendly dishes and stimulate discussion on the topic. 7. Limit the use of products containing polystyrene as soon as possible. 8. Reuse the plastic bottles you have at home as much as possible. You can use them to make handicrafts, to include cleaning products.
See more
See less